Business 360 – Strategic HR Consultants
Solve HR worries before they harm your business
Create an accountability culture with up-to-date HR systems.

Protect your business from people who 'aren't on the bus.'

Attract, engage and retain the right people.
WORKPLACE ADVISERS & FAIR WORK CONSULTANTS
Providing employers certainty in their employment and safety practices
Business 360 is a workplace relations consultancy providing support to busy managers
We assist you with workplace policies and procedures, resolving employee-related issues and enhancing team performance.
Our approach involves implementing government compliance requirements to assist your business. By taking control of your management practices, we help you to improve employee engagement, performance, and overall workplace culture. We work with you to update and personalise your management systems and educate your staff to help them understand the value of the changes.
Our services go beyond remote advice lines and template documents, providing practical assistance to achieve measurable results.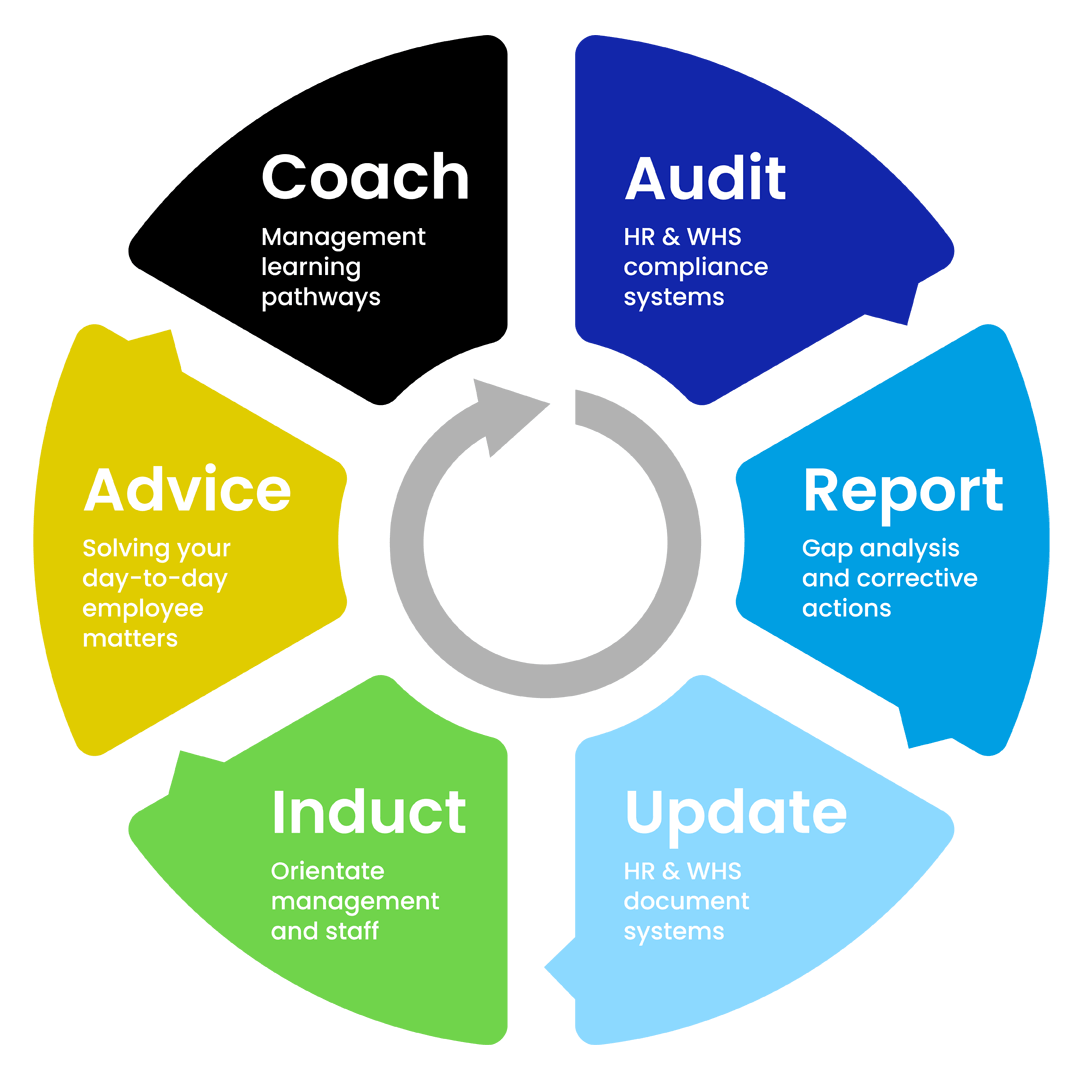 The truth of being a business manager
As a business manager, it's crucial to keep your workplace systems up to date. But with limited time and expertise, it can be challenging to tackle this responsibility alone. That's where Business 360 can help. We take the burden off your shoulders and simplify the complexity of managing your workforce, ensuring you meet current practice standards.
To remain competitive, your operational practices must be structured, communicated, and well-implemented in today's business landscape. If there is misalignment; you'll see employee disengagement, low productivity, or even more severe legal and governance ramifications.
When you get your management practices right, your business is more profitable, agile, and enjoyable to run. Our Business 360 Performance and Productivity model addresses the key pillars of building a robust and cohesive business where staff are engaged and aligned with the business objectives.
Download our Corporate Capability Brochure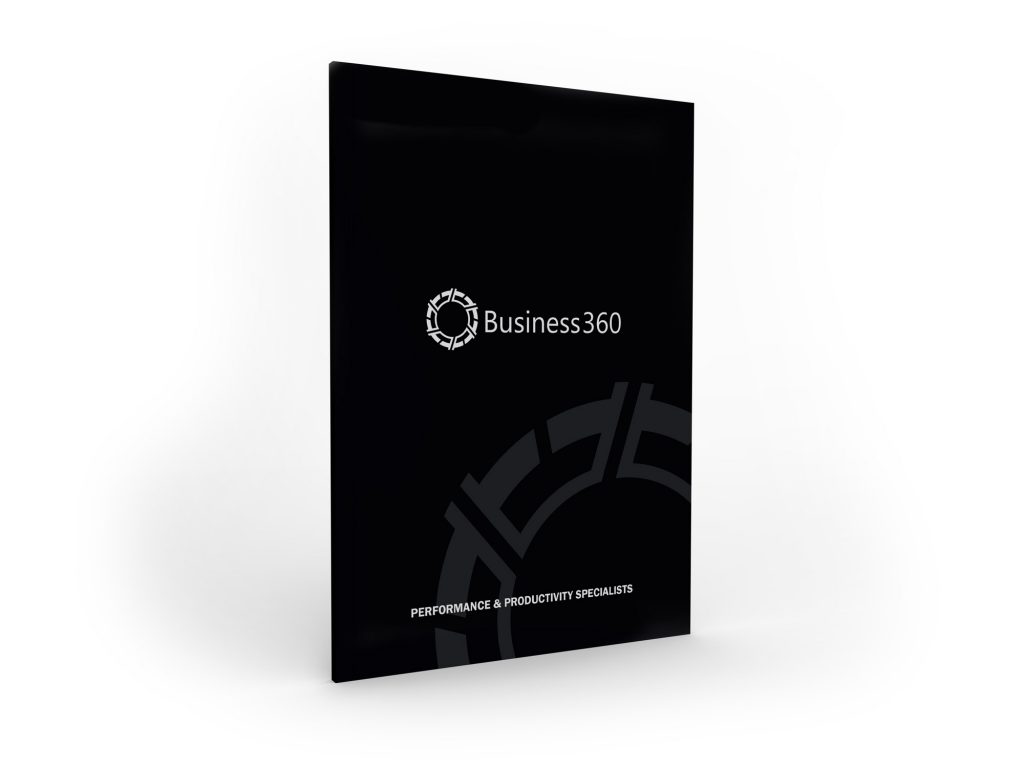 Tasman Insurance Brokers
,
Just wanted to drop a quick note to say thank you to Business 360. Probably like a lot of people, I found the thought of H&S and HR to be a daunting, time consuming process and I was 'Too busy' to look at my systems. I eventually realised that I had to do something about it.  Not knowing where to start, I reached out to the team at Business 360. From the start, they were super helpful and took all the guesswork out of the process, providing me with all the compliance documents and helping me work my way through it all. The service and support has been fantastic and I don't hesitate to recommend them to anyone looking to streamline and get their compliance in order.
MD, ShareStory
,
Business 360 came into ShareStory's world in early 2022 and cleaned up a whole bunch of our workforce management systems. The team also has help ongoing via their helpline and expert advice where you get a person on the other side of the phone! Then, get this... When you call them back with another question - you can speak to the same person! Shocking stuff. I think you'll like their way of doing business too!
Managing Partner | Advivo Business Advisors and Accountants
,
Business 360 has been vital in helping Advivo with our Work Health & Safety, Human Resource compliance and documentation over many years. The foundation of their proactive service provides us with annual reviews and updated systems to ensure we are meeting our legal obligations. They also understand that our staff are our most valuable asset and help us with good governance policies to advise and help us build the right culture and working environment. Based on our level of satisfaction, we have recommended a number of our clients to them for the same high level of service, support and valuable advice to help them build and retain a quality workforce.
Registrar/General Manager | Anglican Diocese of Tasmania
,
We have been working with Business 360 to bring our HR and WHS systems into alignment with current requirements. They were very thorough in their review of our contracts and policies, giving us confidence that we have a solid set of employment agreements. They have shown themselves to be adaptable in tailoring their products to our specific needs and setting.
Partner, Clyde & Co
,
We are delighted to form a key part of Business 360's complete solution for businesses looking for professional advice, clarity and greater certainty on their employment and safety management practices.
Managing Director, Technical Assessing
,
We recently engaged Business 360 (B360) to conduct senior management training and found their subject matter knowledge and insights were invaluable as it related to the importance and development of our culture.  B360's ability to tie this back into our staff management practices and employee performance/engagement was second to none.  The session was superior to anything I've participated in at a high-fee corporate level. We wouldn't hesitate to recommend B360 training to others businesses, especially where they want to improve employee engagement and enhance their culture.
Freedom Home Care
,
I wanted to let you know how pleased I am with your service. Since signing with Business 360, I have had more interactions and learned more in the first month than I did with my previous HR provider over 5 years! When I contact your team with a query, they respond within 24 hours and the advisers have shown a thorough understanding of the award pertinent to my industry. It is great that you travel to regions such as Tasmania to visit your clients for support, another nice touch not offered by your competitors.
CEO, Nutra Organics
,
The team at Business 360 have now completed implementation of the WHS Management System tailored for Nutra Organics. The process was very effective in determining our core health and safety needs and applying a concise system for context to our Distribution Warehouse operations. The Business 360 team completed the implementation with extensive documentation, process and staff handover sessions for all company levels.
GM, Bluey Technologies
,
A detailed approach was required, and thanks to Business 360 we received a new set of employment contracts, handbook and tailored policies that more than exceeded our expectations. Business 360 have been very thorough and have made the process easy which is fantastic.
CEO, Envision
,
Working with Business 360 was a valuable foundation investment in our future, and it has had a positive impact on our staff who have seen the undertaking as an elevation in our professionalism.
Admin Manager, Cross Cranes
,
Our Business 360 consultant took the time to get each of our employment contracts just right. Each customised to our employee's award & wages requirements. Thank you!
HR Manager, Just.Logistics
,
Thank you very much for your help today, the training session was as usual was very informative.
MD, Eastcoast Electroplating
,
Thanks for spending your time looking at our disaster of a worksite this morning and thanks for being gentle. I appreciate you getting my compliance documents up to date.
MD, The Print Bar
,
Thanks so much for your training today. That was really motivating and one of the best sessions I've attended, you're great at what you do!