Our Approach
Performance Management Systems
Freedom Home Care
,
I wanted to let you know how pleased I am with your service. Since signing with Business 360, I have had more interactions and learned more in the first month than I did with my previous HR provider over 5 years! When I contact your team with a query, they respond within 24 hours and the advisers have shown a thorough understanding of the award pertinent to my industry. It is great that you travel to regions such as Tasmania to visit your clients for support, another nice touch not offered by your competitors.
Our approach to assisting you
Compliance and risk management are essential for business success, workplace culture, accountability, client experience, and overall outcomes.
Merely meeting minimum standards is inadequate; compliance should support desired results and streamline objectives. Clear expectations connect employees to a greater purpose, while a robust compliance approach defines objectives and the skills needed to achieve them, shaping workplace standards and culture. Neglecting workplace culture risks disengagement, poor conduct, high turnover, and brand damage.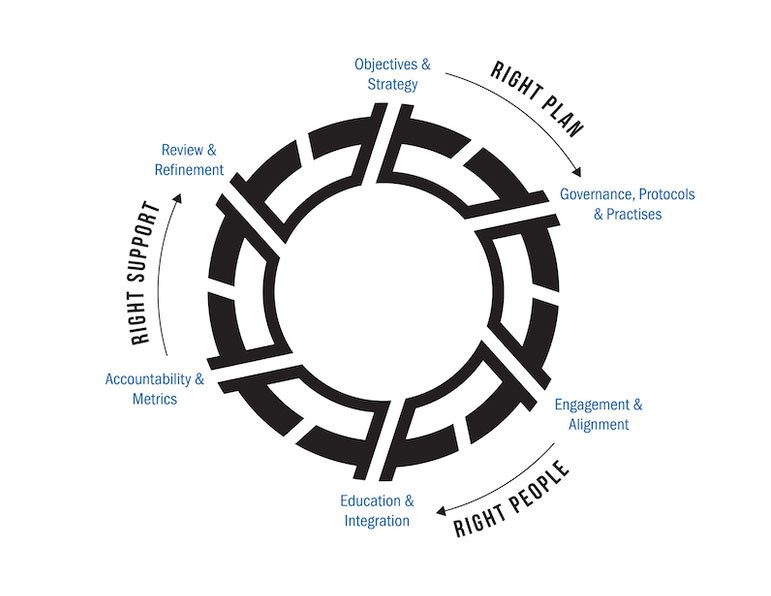 Workforce Strategy
Without the right plan, people, and support, your workforce will often fall short of its potential.
Business 360 provides solutions for business owners to identify what they want to achieve through their workforce relative to their business objectives.
Governance, Protocols and Practices
As workplaces grow and change, documented employment and safety management systems must be implemented and regularly updated to protect employee and business interests.
We tailor and implement effective workplace management systems to manage barriers to reaching your goals. These provide clear direction, support and knowledge to the workforce.
Engagement and Alignment
Once the policies and procedures are updated and tailored to your needs, Business 360 provides manager and staff inductions into your new management system.
We find that a properly implemented conduct and performance management system provides clarity, increases morale and improves team performance.
Education and Integration
Business 360 offers a series of management workshops fundamental to managing workplace compliance and people effectively to avoid legal pitfalls and team performance issues.
Workshops focus on skilling key personnel, those charged with supervising and managing staff to achieve operational goals.
Accountability and Metrics
When expectations are clearly defined in the business, it is easier to set and manage standards across all staff.
Business 360 provides support tools to engage and align employees with accountability and performance metrics. We use a Skill and Will check-in process.
Review and Refinement
The business landscape is ever-changing and successful businesses focus on remaining agile. It is important to understand that how you do things today may need to change tomorrow.
Business 360 helps employers keep workplace practices aligned to regulatory changes,  and business goals.